How to organise ottoman bed storage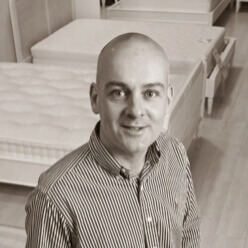 It's impossible to sleep soundly in a bedroom that's chaotic and disorganised – and it does nothing for your Instagram-ready interior design aesthetic. Thank goodness you've had the sense to invest in an ottoman bed with a handy hidden storage compartment!
We're here with all the tips and advice you need to make the most of your ottoman bed storage, and to organise the space for maximum efficiency. Grab the plastic boxes and the label maker, it's tidying time!
Looking for style and storage combined? Look no further than our Maxi Charcoal Velvet Upholstered Ottoman Storage Bed Frame!
What is an ottoman bed?
Looking to boost the storage space in your bedroom and enjoy a restful night's sleep? Say hello to an ottoman storage bed! These ingenious beds feature a convenient in-built storage compartment underneath the base and are available in a range of super-stylish finishes such as natural oak, shimmering high gloss or cosy fabric upholstery.
So, how do ottoman beds work? Ottoman beds use gas-lift hydraulics (fancy, eh?) so you can lift up the base to reveal a large in-built storage space. They usually open using a handy tab, which is either at the foot of the bed, or on one side. Underbed storage has never been simpler!
Are ottoman beds comfortable? Have a read of our handy guide to find out.
Our New England Solo White Wooden Ottoman Storage Bed opens at the side for easy access.
5 easy ottoman bed storage ideas
You've got your gorgeous new bed, now to make the most of it! Here's how to maximise and organise ottoman bed storage…
1. Get sorting out
The beauty of an ottoman bed is that you're able to keep your possessions at your fingertips, but entirely out of sight – which means they're perfect for storing items that you'll return to throughout the year.
Before your new bed arrives, we recommend sorting through your existing cupboards or drawers and deciding on what you'd like to keep in your ottoman bed. Its deep and flat layout means it's perfect for larger items, or for housing objects kept in storage boxes and bags. Really, the possibilities are endless!
If you're tight on wardrobe space, an ottoman bed is great for tidying away unseasonal clothes, coats or shoes. Or why not use it to tuck away spare bedding, cushions, throws or towels?
Or, if your ottoman bed is destined for a guest room, they can be brilliant for housing luggage, craft supplies, photo albums and Christmas decorations, or even children's toys, books and games.
2. Divide up the space
Splitting up the storage space in your new ottoman bed is the most efficient way to organise your belongings. We recommend measuring the space you have available (most ottomans are around 20-25cm deep) and then you're ready to divide and conquer!
If you share your bed with a partner, you could divide the storage space in half to avoid your belongings becoming muddled. Or, you could try fabric or plastic dividers to zone the space and group items together. Chaos and clutter, be gone!
3. Invest in storage boxes and bags
Now you've decided on what to store in your new bed, it's time to get organising! As ottoman beds are great for housing items which you'll return to throughout the year, it's important that similar items are grouped together for easy access, and storage containers or bags are a brilliant solution.
For example, zip-up or shrinkable vacuum bags are great for housing your out-of-season wardrobe or spare bedding (plus they can protect delicate items from dust, damage and moths). Or, for storing spare shoes, handbags or household items, why not try plastic boxes, colourful crates or woven storage baskets?
4. Embrace the label maker
Real talk – we need no excuse to get the label maker out! But now you've gone to all the effort of organising your ottoman storage compartment, wouldn't it be nice to be able to find everything with ease? Label each storage box or bag with details of what's inside and your underbed storage will be transformed into a haven of order and organisation.
In the market for bedroom furniture?
You've got your gorgeous new ottoman bed, now how about some beautiful bedside tables, a shapely new chest of drawers or an ultra-glam dressing table to go with it? Our collection of stylish bedroom furniture has got you covered!