Can You Paint a Wooden Bed Frame?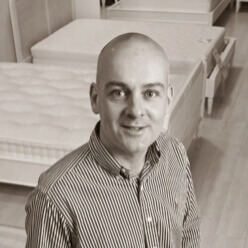 The short answer is yes, of course! If your wooden bed frame could do with a sprucing up, or perhaps needs a new colour to fit with your bedroom refurb, don't be shy about painting your wooden bed frame. Whatever your reason for opening that fresh paint can, a wooden bed frame is a sturdy and durable piece of furniture and a new coat of paint could be just the ticket to breathing new life into its aesthetic.
Here, we've collated the best hints and tips to make sure you are prepped and primed to breathe new life into your bedroom and paint your wooden bed frame.
What you'll need before you get started
A good worker never blames their tools. Before embarking on your redecorating mission, make sure you are fully armed with the following essentials for painting a wooden bed:
1. Tarpaulin or bed sheets
You'll need something you can use to protect your floor – spoiler alert: painting can be a messy business. Some tarpaulin or bedsheets are a must, assuming you don't mind sacrificing a few old bed sheets that is!
2. Sandpaper
A medium grit sandpaper (somewhere between grit 100 and 150) is good for general sanding purposes and will be your best friend for stripping away any impurities that have built up within your bed frame and preparing it to be painted;
3. Primer
A layer of primer is key to providing a solid base for your new coat of paint;
4. Paint brush
Duh! A few different sizes will be useful, remember that if you are not dismantling the bed before painting there might be some tight corners to navigate;
5. A bucket with some water and vinegar
This will help with the pre-paint cleaning.
6. A dust mask and gloves
To protect yourself!
And of course, you'll need your new paint. If you're stuck on which colour to go with, we've got you covered – read on for how to choose the perfect bed colour.
How to prepare your bed frame for painting
Preparing your bed frame for painting will vary depending on how old your bed is, how much TLC it needs and whether or not you can dismantle it. Dismantling the frame can make the whole process a lot easier, particularly when it comes to applying a lick of fresh paint. If dismantling is not an option, then you'll just need some smaller paint brushes to navigate any tricky corners.
Either way, every painting job should start with a thorough cleaning of your bed frame. Start by using some water mixed with vinegar to clean the frame – if your bed is dusty underneath, you could also give your bed a quick hoover to get rid of any lurking dirt and residue.
Next, it's time to get down to the nitty gritty and get sanding! You don't need to be a consummate professional when it comes to sanding – the aim here is to make the surface as smooth as possible and provide a more adhesive surface for your primer and paint to stick to.
The final step is to apply a coat of primer. This will help to fill the grains in the wood and provide you with a smooth surface that's ready to be painted.
Choosing the perfect bed colour
Now comes the all-important question: what colour should you paint your wooden bed? The answer will always come down to your individual preference and taste, and how you decorate the rest of your bedroom.
You'll never go wrong with a white or light grey finish. A neutral approach to your wooden bed frame can create a lovely contrast if you have bright walls or vibrant wallpaper. Or you could keep a traditional wood feel to your bed frame and opt for a darker brown to cultivate a natural and alluring sense of comfort.
For those with a more adventurous colour palette, or those with an eye on redecorating the entire bedroom space, take a look at our blog on 2021 Bedroom Design Trends. In this piece, we talk this year's most popular colours from greens, pinks and oranges for a colour pop that's sure to make your bed a focal point and inspire your inner interior designer.
How to paint a wooden bed frame
Now you're prepped and primed, it's time to paint. First up, ask yourself whether you're after a gloss finish with a high sheen, a low-sheen eggshell coverage or a mid-sheen satin finish.
The best paint for a wooden bed frame tends to be alkyd oil-based paints that harden over time. This type of paint will mean your painted bed finish will be more durable for longer and you won't be reaching for that brush again anytime soon!
Once you've found the perfect paint, lightly sand down your dried primer, brush off and apply your first coat of paint with confident strokes from left to right. Allow to fully dry for at least 6 hours, lightly sand and repeat. Keep going with this process until your whole bed frame is glowing with its new look and apply a protective finish.
Voila!