Why buy a new bed?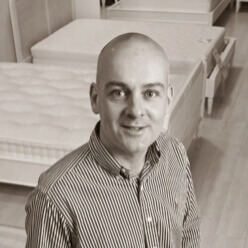 When you think of March, do you automatically think of your bed? Gradually improving weather and the promise of a bit too much chocolate at Easter may not have you daydreaming about snuggling down under your duvet as a cold frosty winter might, but there's one very good reason to turn your thoughts to your bed this month: March is The Sleep Council's National Bed Month. This campaign aims to remind everyone just how important getting a good night's sleep is, and to raise awareness of the role a good bed plays in this endeavour. We'd like to play our part in this worthy pursuit, so we bring you a guide to the whys and hows of buying your perfect new bed. Why buy a new bed? A beautiful new bed can give your bedroom a whole new look; it can change the style of your décor, it can make the most of a small space or it can become the central feature in a huge room, but the perfect bed is not all about looks. A carefully-chosen new bed can deliver an array of health benefits:
A new bed has been proven to improve sleep quality, sleep comfort and sleep efficiency. It has also been shown to significantly reduce back pain and stiffness.
Getting rid of an old mattress can remove years' worth of accumulated dirt, dust, dust mites and mould from your bedroom, providing you with a fresh start and possibly a marked reduction in allergy symptoms.
A well-built bed with a sturdy structure that is not being compromised by age will support your body as you sleep, helping to ensure that you get the best sleep possible; this is important for both your mental and physical health as sleep is associated with maintaining such things as a healthy body weight, mental alertness and memory.
A note on size It's a good idea to get the biggest bed you can - for your space and your budget. A bigger bed will not only mean more space for you to spread out, it'll mean you're less likely to disturb your partner if you do move around in the night - which is good news for both of you! King size and Super King size beds are a practical luxury if you have the space. Types of beds and their benefits Divan (take a look here) Broadly, there are two types of divan base available: pocket sprung and platform top. Pocket sprung divans have springs in their base and have a softer top that is designed for extra comfort, adapting to your body's contours. The entire mattress acts like a shock absorber, giving even support all over. Platform top divans have a rigid top meaning they feel firmer to lie on. However, do bear in mind that it's the mattress you choose that will have the greatest impact on how hard your bed feels to sleep on. A divan bed is a good option for those who want plenty of choice when it comes to storage, firmness and size. Bedsteads (take a look here) While divans are a good choice for those limited on space, bedsteads are perfect for those who have the room to install an ornate and stylish bed. Bedsteads are slatted frames rather than solid bases, generally made out of wood or metal. Some are clad with leather or leather-look fabric - these are called upholstered beds. The space between the slats on the base of the bed will dictate how firm or flexible the base is. The wider the gaps, the more flexible the base. Storage beds, folding beds and guest beds If clutter is an issue or you have a small bedroom, choosing a good quality storage, folding or guest bed can ensure that your own or your guest's sleep doesn't suffer. The best way to do this is to keep comfort at the forefront of your mind, choosing a suitably-sized, good quality base and a supportive mattress no matter what style you go for. Mattresses When to replace your mattress It is recommended that you replace your mattress every eight to ten years, even if you still feel that it's comfy. You'll likely be amazed at just how much more comfortable your new mattress is! The soft, medium, firm debate Bad back? You don't necessarily need a hard bed. A study carried out in 2003 and published in The Lancet medical journal shows that a very hard mattress is not always the best choice for bad backs, and indicates that a medium-firm one may be a better option. Anyone looking for a definitive answer to the soft, medium, firm question may be disappointed to know that there's no set-in-stone answer. Some people like to feel they are sinking into a bed, other people want to feel the mattress stand up to their weight. If you like to sleep on your back you might prefer a firmer mattress compared to people who prefer to sleep on their sides. As a guide to the ideal solution, lie down and ask yourself whether the mattress is helping you achieve good posture. If it's too soft you'll be slouching, if it's too hard you'll feel it uncomfortably firm against your shoulders and hips. The mattress you choose should mould to the shape of your body but still support you. Top tips:
Channel 4 offers this great way to check whether a mattress is too soft or too hard: lie on your back then slide the flat of your hand into the hollow of your back. If there is a gap then the bed is too firm. If you find it difficult to slide your hand in at all, it means the bed is probably too soft.
Generally, the heavier you are, the firmer you need your mattress to be.
Why not make National Bed Month the month you get a brand new bed?