Time4Sleep Bedroom Style Trends: February 2021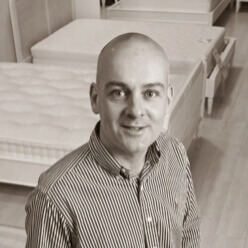 As freedom creeps closer, we have some news for you: it won't be long until you can have people over to yours again! So, why not get ahead of the curve and freshen up that spare room for future visitors?
Here, we've picked out the best Instagram bedroom snaps from our customers in February to help give you some interior design inspo. It's time to talk colour palettes and layering, friends!
Pastel perfection
@makingahouseahomeno10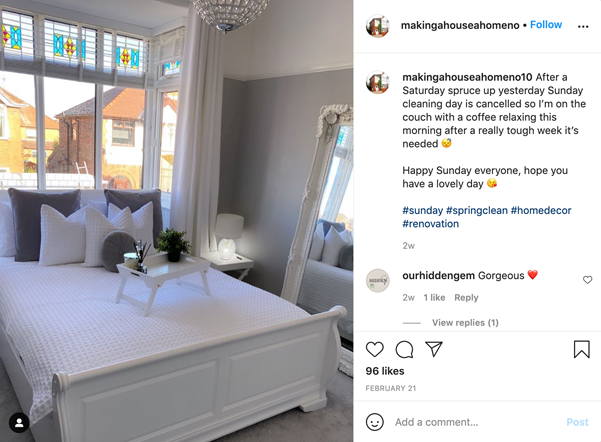 We think @makingahouseahomeno10 have absolutely smashed it with this space. Light, airy, yet with the tiniest hint of glamour, they've concocted the perfect recipe for a standout bedroom design. We love the kisses of purple on the two-tone walls being echoed by the throw pillows, and don't even get us started on the decorative light fitting and statement mirror – stunning.
For such a regal room, our Louie Sleigh Bed is the perfect match. Drawing on the influences of 18th century France, this bed is designed with timeless elegance in mind, with its opulent roll-top curves and sophisticated detailing. Plus, in polar white, our Louie is eye-catching to the last and truly pops in this bedroom despite the muted colour palette.
If you're searching for a high-quality bed fit for royalty but without the hefty price tag, why not browse our beautiful collection of sleigh beds.
Home cinema chic
@myhappyplace_7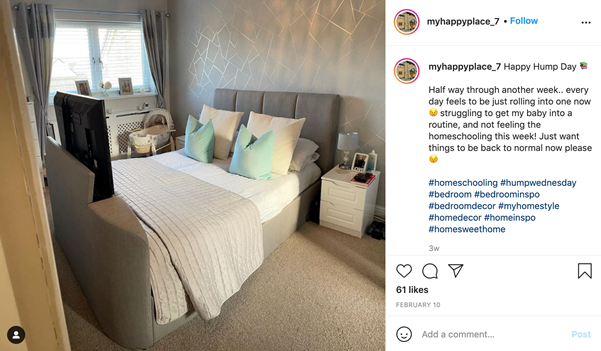 Liz, the owner of @myhappyplace_7, has her priorities in order. Two words: TV bed. But before we gush about the glory of a private home cinema, let's take a moment to appreciate how Liz has layered and played with the soft grey colour palette in her bedroom. From the quilted throw to the headboard, curtains and accent wallpaper, every element of this room has been thoughtfully considered, and the result is a calming, sumptuous space.
In keeping with the colour theme, and to help her navigate many a hump day, Liz made a smart choice with our Copenhagen Ottoman TV bed. Effortlessly combining functionality with style, this bed has it all: a remote-controlled TV in the foot of the bed, style, comfort, and a huge amount of space in its ottoman base. What more could you ask for? And did someone say Netflix and chill?
Treat yourself to the ultimate luxury. Here's our full range of decadent TV beds.
Mews magic
@life_at_the_mews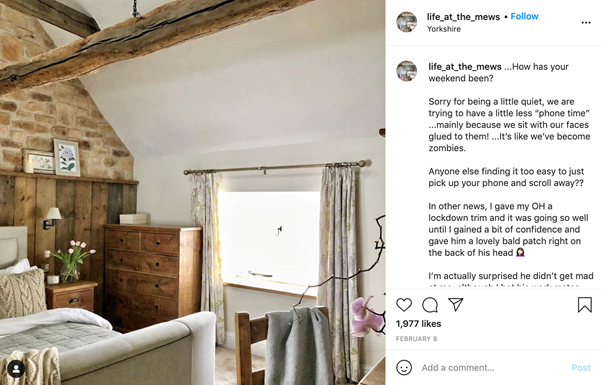 In an image that looks fresh from the cover of Vogue, Kathryn (@life_at_the_mews) has created her very own country escape in her bedroom. We are speechless: the beams, the open brick, the varying wood textures, the glimpse of a knitted throw pillow – we would pay good money to stay here ourselves!
Kathryn has also nailed it with her choice of Time4Sleep TV bed in this shade of velvet mink. Subtle enough to stay true to the room's natural tones, but opulent enough to add a warming note of luxury, you can't help but want to clamber in with a coffee and a croissant. This submission right here is a masterclass in interior design, people: take notes.
If the last image didn't convince you, this one should. Browse our stunning selection of TV beds here.
50 shades of stone
@underrussellsroof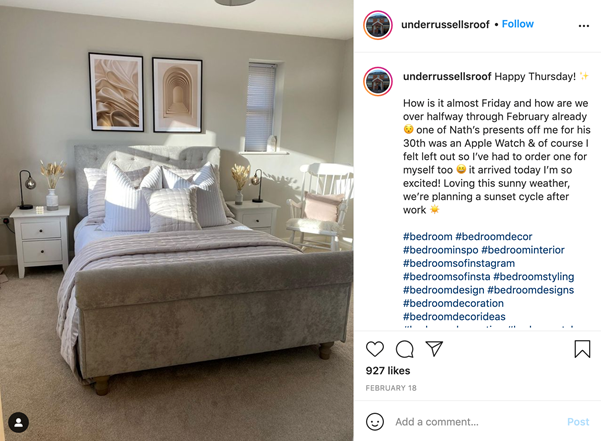 Warm, earth-tone colours make any space feel inviting and homey, and Victoria (@underrussellsroof) has achieved just that. We can almost feel the warmth of that sunbeam on our faces now as we imagine snuggling into that big cuddly bed. To add an extra sprinkle of cosiness, Victoria has been really clever with her use of rich pops of pink, quilted throws and pillows, and the sense of symmetry she's created with her surrounding furniture and décor. Genius.
Our Valencia Upholstered Sleigh Bed is also working some serious magic in this space. A contemporary twist on a traditional design, the beautiful steel shaded velvet only adds to the style and grandeur present in Victoria's bedroom. If you're searching for a statement piece – this is it.
Are you also looking for some stylish storage options? Say no more. Victoria's got that one covered for you, too. In keeping with the contemporary interior design, the Manilla 6-Drawer Wide Chest is a generous piece to say the least. Nestled so wonderfully here into a wider storage installation, the Manilla is designed for modern living, boasting clean lines and subtle detailing for a very en vogue yet practical aesthetic.
Looking to add some warmth and style to your bedroom? Look no further. Check out our gorgeous range of upholstered beds. But if you came here for storage, don't fret, we've got a link for that too. Here's our selection of chests of drawers.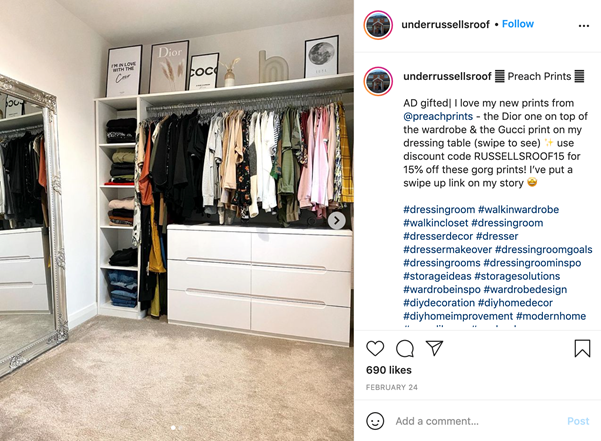 Does your bedroom deserve its moment in the spotlight?
If you're a budding interior designer, show us what you've got! Simply tag a picture of your Time4Sleep bed with @time4sleepuk on Instagram and we'll make sure your bedroom takes centre stage in our next Bedroom Style Trends feature.