How to Style a Dressing Table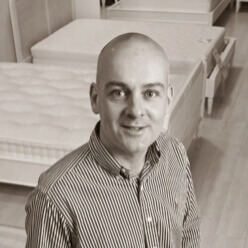 Self-care is the buzzword of the moment, and what better way to enjoy a moment of mindfulness than creating a quiet spot in your bedroom for combing your hair, applying makeup or doing that essential evening skincare routine. Enter the dressing table! Though we may not all have room for a dedicated dressing room, it's easy enough to find space for a compact dressing table – especially if it looks beautiful and can be styled with glamorous, yet practical, accessories.
A contemporary twist on traditional designs, our Newport Oak Dressing Table would be a lovely spot to do your hair and makeup.
Choose the perfect dressing table
With lots of options on the market, choosing the perfect dressing table for your bedroom can be overwhelming. However, as a dressing table is a space for indulgence and pampering, what's most important is that you opt for a design that reflects you and your personal style!
There are myriad designs available – from glossy contemporary dressing tables (like our Marlow White High Gloss 2 Drawer Dressing table), to traditional shaker and antique-inspired styles (such as our classic Newport Oak Dressing Table). Why not look to Pinterest and Instagram for ideas, or draw inspiration from the furniture or colour palettes in the rest of your home? It's also worth remembering that a simple, chic dressing table can be easily elevated with a few choice accessories!
Keep things chic and modern with our glossy Marlow White High Gloss 2 Drawer Dressing Table.
Where to place a dressing table in your bedroom
As you'll most likely be sitting at your dressing table to do your hair or make-up, you'll want as much natural light as possible. To ensure that your brand-new dressing table is bathed in sunlight, we recommend placing it as close to a window as possible. Or, if that's not possible, try placing it across the room from a window and using a large mirror to angle the light towards your face.
What should be on a dressing table?
A dressing table is your own personal pampering sanctuary, so you need only include items which you find useful and beautiful. Though you'll definitely need a mirror (how else will you see your lovely reflection?), anything else that you choose to display is entirely up to you. Skincare, makeup, jewellery, hair accessories and perfume are natural choices, but you could also zhuzh up your dressing table with a lovely table lamp, a vase of flowers, a scented candle or a houseplant – let your imagination run wild!
5 ways to style your dressing table
You've bought your brand new dressing table and positioned it in your bedroom, now is the time to get creative! Follow our easy styling tips for a dressing table that's both glamorous and practical…
1. Get organised
A well-organised dressing table will ensure that your bedroom always looks beautifully tidy and stylish. Most dressing tables are designed with built-in drawers for keeping makeup and skincare out of sight, or for housing larger accessories such as hair dryers, straighteners or curling tongs. To avoid things getting tangled, we also recommend investing in a set of fabric or plastic drawer dividers.
To keep your tabletop tidy, there are plenty of creative options available. Small glass vases or ceramic cups are brilliant for housing makeup brushes, whereas colourful trays are an easy way to keep jewellery and other items separate.
2. Take a seat
It's important that you feel relaxed and comfortable while sitting at your dressing table, so a lovely seat is a key investment. Though some dressing tables come with their own matching stool, such as our Chateaux White Dressing Table and Stool set, there are plenty of other options on the market. To make a colourful statement, why not opt for a vivid upholstered seat in a bold, patterned fabric or luxe velvet? Or keep things sleek and minimal with a subtle wooden stool or rush-seated chair.
Our sleek and stylish Chateaux White Dressing Table and Stool set would be a pared-back addition to your bedroom.
3. Mirror, mirror on the wall…
Whether you choose an ornate gilded-looking glass, a modern round number, or a traditional wooden swing design, a lovely mirror is arguably the most important element of a dressing table. It's important to choose a mirror that's large enough to see your full head and shoulders while seated, though you may also want to invest in a smaller magnifying mirror for detailed makeup application.
Create a traditional countryside feel on your dressing table with our Radstock Truffle Trinket Mirror.
4. Lovely lighting
It's always easier to apply makeup in natural sunlight, so it's best to position your dressing table near a window. But that doesn't mean you can't supplement this light with some artificial alternatives! Ceramic or glass table lamps with fabric shades would lend a touch of elegance to your dressing table, or to prevent the table top clutter, you could position an arching floor lamp nearby. Or, for pure Hollywood vibes, we would never say no to a glamorous light bulb mirror…
5. Finishing touches
Your dressing table should be a personal sanctuary – a place to feel calm, inspired and enjoy taking some time for self-care. Incorporating personal objects into your dressing table styling will ensure that the space reflects your unique personal style. For a splash of colour, why not display colourful prints, paintings or family photographs on a nearby wall? Or for a sense of zen-like calm, you could introduce a mood-boosting houseplant, a vase of seasonal flowers or a soothingly-scented aroma diffuser.
Looking to upgrade your bedroom furniture?
From roomy wardrobes and underbed drawers, to bedside tables and ottomans, our extensive collection of beautiful bedroom furniture has got you covered!