Bedroom Style Trends: September 2020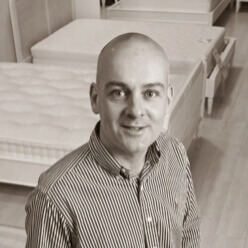 You don't need us to tell you that Autumn is now in full swing - all you need to do is look out your window! 'Tis officially the season of pumpkin spice lattes, falling leaves and turtleneck jumpers. At Time4Sleep, we are on a mission to inspire our customers to embrace this snuggly season and want to help you transform your bedroom into a stylish sanctuary where the perfect night's sleep is guaranteed when bedtime rolls around.
Here, we've selected our most stunning Instagram customer submissions from September for your pleasure and inspo: scroll on for sumptuous style!
Blue Beauty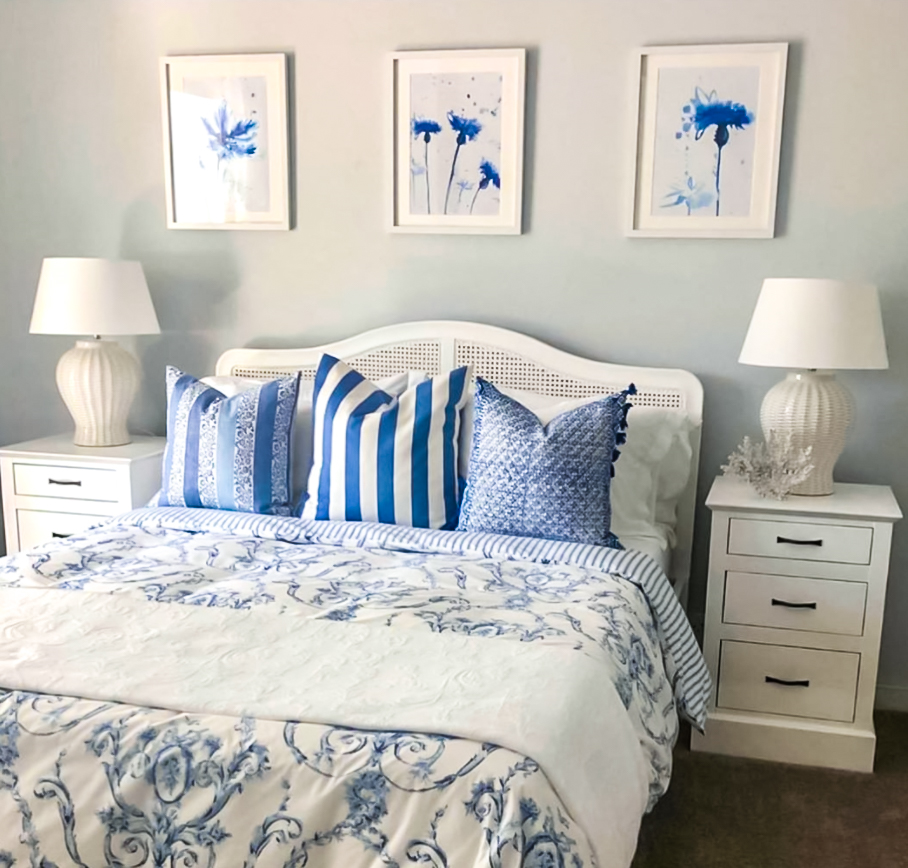 The fabulous Bev (@mydesreshome) sure knows a thing or ten about interior design - we are obsessed with the details in this blue and white, classically styled bedroom. This really is a calm retreat – crisp white wooden furniture is paired with nautical pastel blue accents for a serene and tranquil yet inviting look.
We especially love the feature throw pillows as their vertical stripes really draw the eye to the crowning jewel of any bedroom – the bed! Our Liberty Rattan Wooden Bed really adds to the French renaissance inspired design of this room. The Liberty is lovingly finished in an antique white paint with an elaborate, hand-crafted rattan headboard, exuding lavish sophistication and opulent style. Are you looking to transform your bedroom into a Parisian boudoir fit for royalty? This is the bed for you.
If you're looking for high-quality wooden bed for your bedroom, take a look at everything you need to know in our Wooden Bed Guide for more information on benefits, styles and care advice.
C'est Chic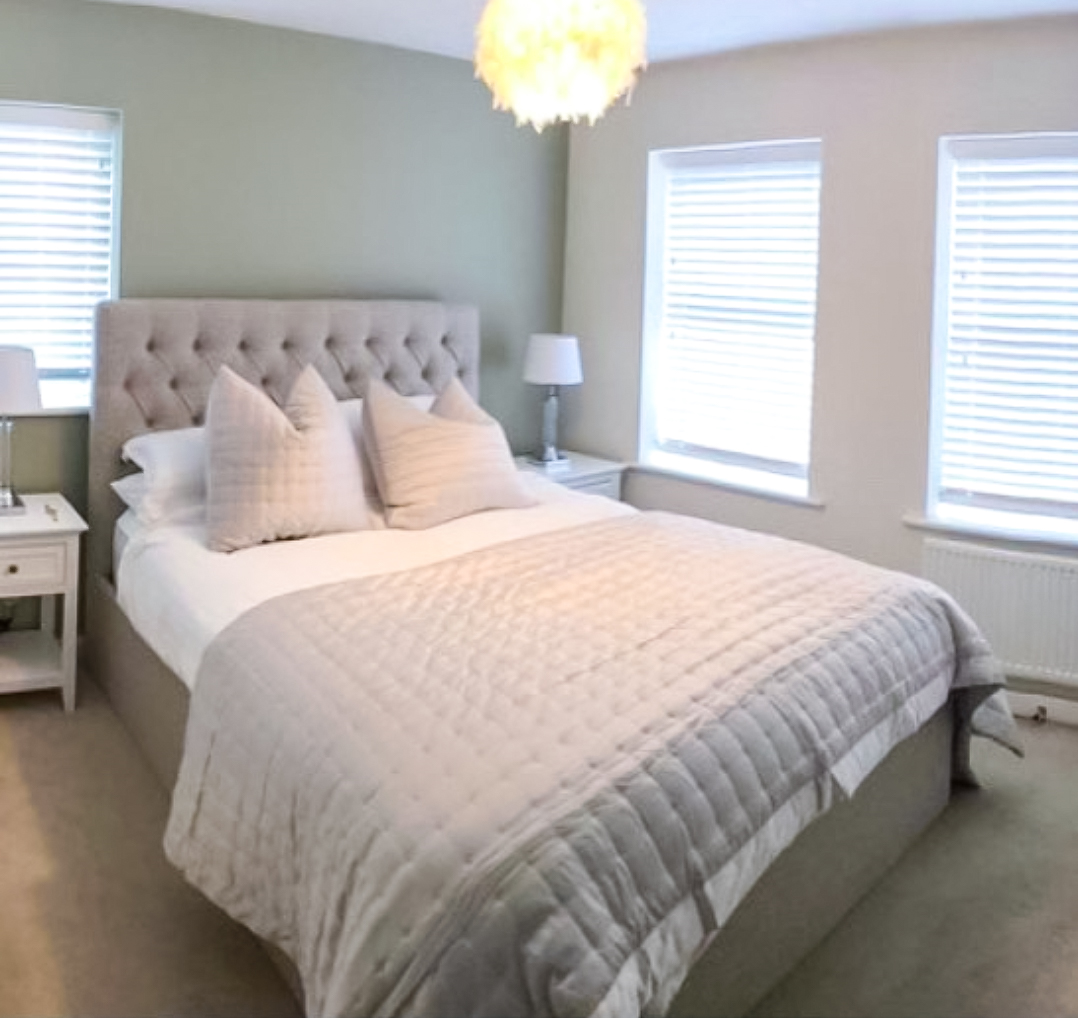 How much do you want to dive into this bed and give one of those perfectly plumped dress pillows a cuddle?
This gorgeous setup, submitted by our equally glamorous customer Hannah, oozes sophistication and style. Her choices of soft grey furnishings look all kinds of chic against the backdrop of her sage feature wall, creating a calm and peaceful space that is made all the more satisfying by the level of symmetry Hannah has applied to her bedroom furniture, with matching bedside tables and lamps to boot.
Our stylish and versatile Maxi Driftwood Upholstered Ottoman Storage Bed is the pièce de résistance in Hannah's room. With a luxurious deep buttoned headboard and statement upholstering, the Maxi Driftwood makes an eye-catching centrepiece in any space. Plus, this bed has an incredibly large storage space concealed beneath its base to help you declutter your room as exceptionally as Hannah has here.
If you're looking for stylish storage beds, our Ottoman Bed Buying Guide will have you well on your way to acing the storage and sleeping game in no time at all!
Velvet Puppy Love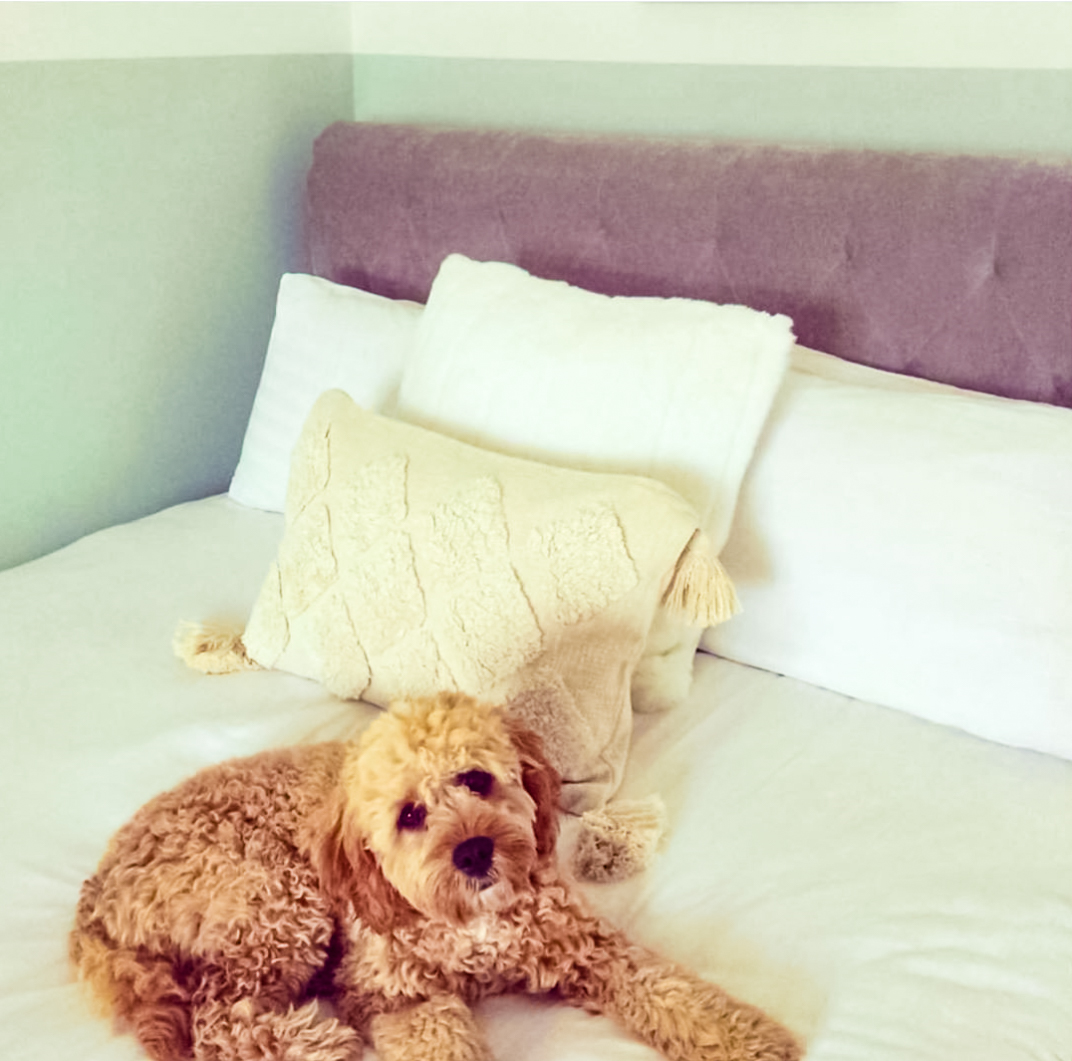 Would you just look at this little floof being all cute in our Francesca Upholstered Sleigh Bed in Mink. Who knew you could match your bed and accessories to your doggo!?
ur crafty customer @no.6.yarm has recently moved into a stunning new build in – you guessed it – Yarm, and has been busy flexing her creativity to make her new house a home. We are in love with how the mink velvet headboard acts as a colour pop in contrast with the pastel dual tone walls.
The Francesca is a contemporary-style bed frame in velvet fabric which is sure to give your room that plush and sumptuous boutique hotel feel. With a scroll style detailing on both the headboard and footboard, as well as deep tufted diamond-shaped button, this bed packs one hell of an elegant punch. Available in a range of sizes - from a 4ft 6 double, 5ft king or 6ft super king – the Francesca is the perfect fit for any bedroom.
Not sure which size is ideal for your space? Check out our handy Bed Size Guide.
Does your bedroom deserve a moment in the spotlight?
If you've poured your heart and soul into designing a bedroom worth shouting about, share it with us! Simply tag @time4sleepuk in a picture of your Time4Sleep bed in your stunning space and we'll make sure your bedroom takes centre stage in our October feature of Time4Sleep Bedroom Style Trends.