Sleigh Beds at a Glance
A sleigh bed offers an opulent look for your room characterised by a scrolled headboard and foot end
The scrolled design for the bed gives a show stopping focal point with its robust heavy structure balanced by feminine curves
Fits well with traditional or contemporary styles of rooms offering a timeless classic
Offered in Wooden and Upholstered finishes allowing you to tailor to any room design
Why buy a Sleigh Bed?
A Sleigh bed can be a great option to bring an opulent style to your room. Characterised by an outwardly scrolling head and footboard, the Sleigh bed's grand stature is an elegant focal point for your room.
The sleigh bed is a classic design that can work equally well in either a traditional or contemporary design scheme. From vintage and cottage style sleigh beds to French Style sleigh beds and contemporary upholstered sleigh beds we have a wide range of styles and finishes available.
Sleigh beds are perfect for your master bedroom or guest room. They are also a great option for if you have a holiday let, giving your accommodation an opulent feel, making guests feel extra special. Robust and sturdy, a sleigh bed is great for regular use whilst also bringing that luxury feel to your room.
Sleigh Beds with footboards are a must for traditional style bedroom décors. A footboard gives a conventional and polished look and assists in keeping bedding on the bed – a feature which would be useful for sleepers who The inclusion of a footboard will immediately give the interior a more conventional and finished look.
Footboards help to keep bedrooms neater by preventing bedclothes from falling off the bed. This feature could be particularly useful for sleepers who tend to stir during the night.
Sleigh Bed Styling
Classic Sleigh Bed – Substantial and sturdy a classic Sleigh bed will feature the traditional scrolled head and footboard and strong styling. Dressed with pretty floral designs to capture the quintessentially British feel or stick with a classic look, aligned to the French design of the sleigh bed, teaming with stylish French toile bedding.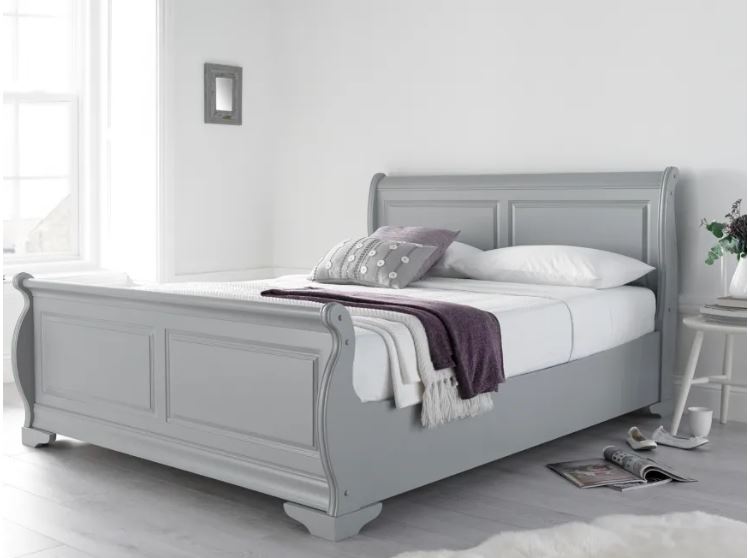 If you want a classic Sleigh bed look to your room then the Louie Wooden Sleigh bed is the obvious choice. The Louie draws on the influences of 18th century France but is designed to be timeless and will suit a plethora of bedroom decor's. Simple and eye catching the finish to this bed is graceful and classic, heralding beautiful curves and sophisticated detail. Beautifully crafted the Louie has been styled to bring a mood of serenity and relaxation to any room.
Upholstered Sleigh Bed – A modern twist on this classic style the upholstered sleigh bed takes luxury to the next level with opulent fabric choices and buttoned headboards. An Upholstered Sleigh beds tend to feature coordinating piping and ornate feet to really give your room a feel of indulgence.
Single Sleigh Bed – Smaller in size but not impact a single sleigh bed is a great way to add in classic styling to your room. A single sleigh bed offers the opportunity for creating a whimsical and romantic look.
Storage Sleigh Bed – No need to sacrifice storage for style with a Sleigh bed. We have options of Sleigh beds with added storage such as drawers or even the option of a spacious ottoman sleigh bed.
Sleigh Bed with a Low Foot End – Sleigh beds are typically known for their scrolled headboard and footboard but are options of achieving the look but with a more minimalist feel by choosing a bed which only features a scrolled headboard and a lower foot end.
Common questions on Sleigh Beds
What sizes are Sleigh Beds Available in?
Sleigh beds at Time4Sleep are available in single, compact double, double, king size and super king size.
How can I find out the dimensions of a sleigh bed I am interested in?
Under each bed description there will be a section for dimensions. If you cannot find the information you need here, please call one of our friendly sales advisors who will be happy to assist.
How do I care for my Sleigh Bed?
We have written guides to help with care for each of our bed finishes