White bedroom ideas and inspiration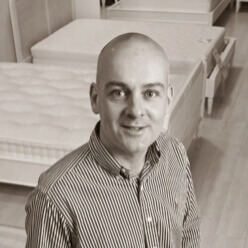 Calming, timeless and ethereal, a white bedroom is a classic choice that's guaranteed to never go out of style. And don't be fooled into thinking that a lick of white paint has to be a sterile, cold and boring affair – nowadays there are hundreds of shades, from creamy caramel-toned whites that catch the light and warm your room to off-whites with a hint of grey that bring softness rather than shine. Who knew?
Pick the perfect shade and your white bedroom becomes the ideal canvas to accessorise with top-quality furniture and soft furnishings to create a warming and inviting space. Hello soothing sleep!
Here, whether you're after a bright boho look or a crisp contemporary finish, we've pulled together our best white bedroom ideas and inspiration to help you get it right with white.
Why is white so popular in the bedroom?
Here's a smorgasbord of words to explain why white is such a popular choice for the bedroom: chic, clean, contemporary, Scandi, boho, minimalist, modern, fresh. Oh, and did we mention versatile?
White simplifies spaces, helps to calm surroundings and adds a sense of relaxed freshness to transform your bedroom into the perfect sleep sanctuary. Forget brash and busy; think calm and clutter-free.
Unlike other bolder shades, white not only looks amazingly crisp and bright but it has endless potential when it comes to changing up your style and matching any bedroom aesthetic. White furniture especially, such as white beds, desks and wardrobes, allow you to get more adventurous with colour in all the accessories and décor you add to the space. Feel like an ochre bedspread today? No problem. Want to add a pink velvet chair to admire your interior design skills from? Go ahead! White is such an accommodating colour that lends itself to an incredibly wide array of other tones and hues so get flexing your creativity, you superstar stylist you.
How do you incorporate white into your bedroom?
Looking for ways to spice up an all-white look? We've got you covered. From high gloss white furniture to colour pops and texture, here's our list of top white bedroom ideas.
1. Use texture to layer shades of white for depth
Whether it's fluffy rugs, knitted throws, crocheted pillows or linen bedding, texture is an effortless way to get creative with your white bedroom design. Not only does it add more interest from a touch and feel perspective, but textured whites will add a sense of depth and warmth to your design to help you achieve a truly boho, lived-in feel for full marks on the cosy scale.
2. Pair with wooden touches for a rustic look
White and wood are a match made in heaven. If you're after a chic rustic aesthetic – we're talking stunning chateau in Provence vibes – make sure to explore white wooden bed and furniture options when browsing for bedroom furniture. They're guaranteed to bring warmth and texture to your space and look like the heights of fashion whilst doing so.
3. Colour pop to your heart's content
From feature walls to accessories, there's nothing more satisfying that a strong splash of colour against a white backdrop to create focal points in the space for maximum eye-popping impact. Whether it's a strong wallpapered feature wall to draw attention to your bed or brightly coloured rugs and throws, colour pops create a striking contrast that accentuate the luxurious brightness of your white bedroom.
Why not try adding deep blues for a nautical vibe or citrus orange for something a little zestier? With this colour pop look, it's all about vibrancy and energy – you won't be able to keep the smile off your face.
4. Add a mirror to make your space feel bigger
There's no denying that light, bright colours make spaces feel fresher – so why not maximise the effect with a large statement mirror? Not only are they handy and gorgeous to look at, but mirrors are miracle workers in any space, small or large, as they reflect natural light around the room to ramp up the brightness and make your room feel much more spacious!
5. Nail contemporary chic with high gloss
Wooden furniture not your thing? We've got you covered. Meet our white high gloss bedroom furniture range. Clean-cut and contemporary to the hilt, high gloss furniture is modern, minimalist and very on trend, darling. Check out two of our bestselling high gloss pieces below or have a read of our High Gloss Furniture Guide to find out what all the hype's about.
Ice High Gloss Chest
Want to get storing in style? Say no more. Our Ice High Gloss Chest is perfect for those looking to add a touch of modern elegance to their bedroom. Classic and understated, this chest of drawers is extremely spacious when it comes to storage and seriously chic with its clean lines and high gloss finish.
Ice High Gloss Two-Drawer Bedside Table
The perfect partner for the Ice chest of drawers, our stunning Ice High Gloss Two-Drawer Bedside Table is manufactured to the highest standard. Made with top-quality timbers and finished in a high gloss Italian lacquer, you can be sure this sturdy yet spacious little number will be the envy of all your friends and act as your perfect bedside companion.
What are the best white beds at Time4Sleep?
Thanks so much for asking – we've been dying to tell you all about these fabulous frames since we were finished with our intro! Here's our handpicked selection of our best white bed frames to inspire your inner interior designer.
The Louie Sleigh Bed in Polar White
Our Louie Sleigh Bed is one of our bestselling beds at Time4Sleep – and it's not hard to see why. Harking back to the heights of Versailles and drawing on design influences of 18th century France, the Louie is a timeless centrepiece for any space. Heralding beautiful curves and sophisticated detail, this bed will only add to the sense of serenity and comfort created by your white bedroom.
The Liberty Rattan Wooden Bed in Polar White
Perfect for boho bedrooms and Scandi snugs, our Liberty Rattan Wooden Bed brings a touch of undeniable rustic luxury. Affordable yet stunning, this bed is sure to catch the eye with its unique rattan headboard and antique white paint finish. Complete with a solid slatted wooden base for superior comfort and support, the Liberty is both sturdy and durable. All you need to do is jump beneath the sheets and get snoozing.
The Verona Ottoman Bed in White Oak
In need of a bit of storage to go along with all that style? Look no further. Our Verona Ottoman Bed is the white bed you've been dreaming of! This clean and contemporary white wooden ottoman bed offers versatility without compromising on style as its base lifts easily to reveal a huge storage area below. With a stylish low foot end and slatted headboard, the Verona would be the star of the show in any contemporary or classically designed white bedroom. Heaven.