Sleigh Bed Style Guide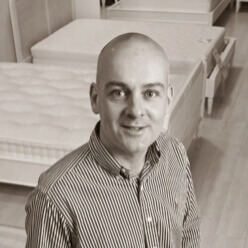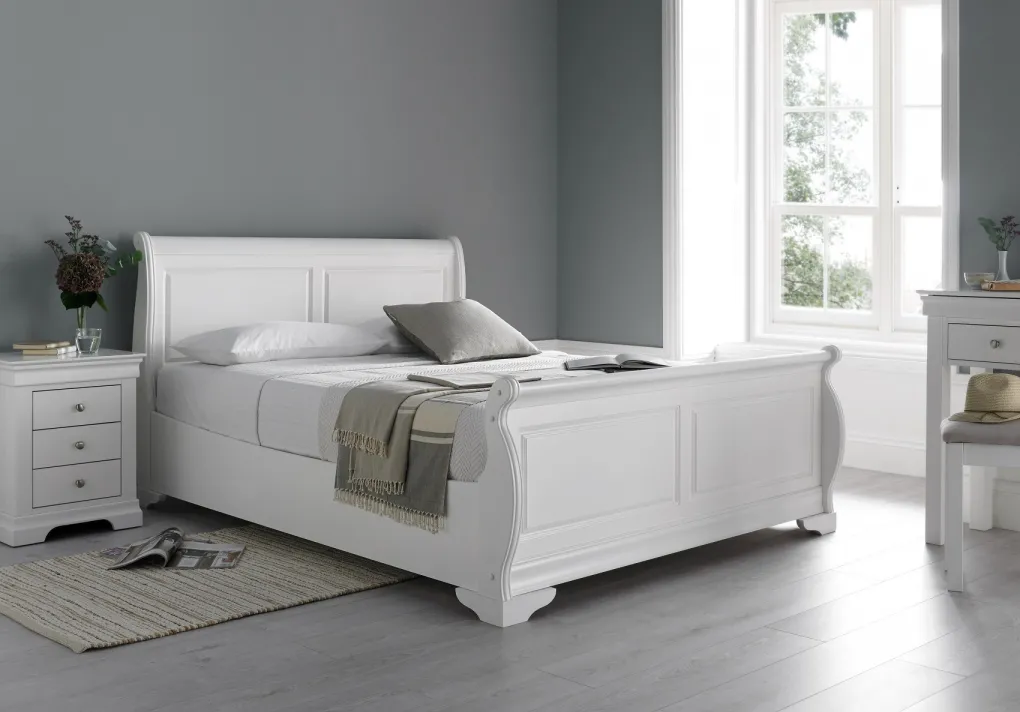 Sleigh Bed Style Guide
With beautifully elegant curves and undulations inspired by a classic horse-drawn sleigh, a shapely sleigh bed is a beautiful addition to any home. From traditional carved wooden frames, to practical and contemporary upholstered designs, this graceful bed transcends the ages and would command attention in a bedroom of any period design or style.
But what is a sleigh bed? And how can you choose the perfect design for your bedroom at home? Here, we've rounded up everything you need to know about this timeless design.
What style is a sleigh bed?
Not dissimilar in looks to the traditional scroll bed, the style of a sleigh bed is rooted in 19th century France and America – though it's classical shape may date back to ancient Greece and Rome. It has a curvaceous silhouette that oozes sophistication and charm, with a softly rolling headboard and footboard to reflect the shape of a romantic horse-drawn sleigh.
It's even rumoured that one particularly fine sleigh bed once caught the eye of Napoleon Bonaparte, who loved the look so much that he ordered all of the beds in his household to be made in the same style! Well, if it's good enough for Napoleon…
Though wooden sleigh beds are among the most popular – and work brilliantly in period-style homes – we also offer a range of Scandi-style painted sleigh beds and wonderfully snug upholstered sleigh beds, which are perfect for those who favour a more contemporary look and feel.
Wooden sleigh beds
Wooden sleigh beds are among the most traditional, but have a timeless charm that can bring a sense of regal grandeur to your interior decorating.
Graceful and oh-so-luxurious, our Louie Dark Wooden Sleigh Bed is a popular choice among our customers for it's classic look. Inspired by 18th century French designs, it's finished in a characterful warm-toned wood stain. Style with a simple linen duvet cover to show off the shape, or go chateau-chic with layers of contrasting bedding and throws. Et voila!
Our Louie Dark Wooden Sleigh Bed has a classic shape inspired by grand 18th century French designs.
Upholstered sleigh beds
For additional comfort and texture, you can't beat an upholstered sleigh bed – whether you opt for super-soft cotton, tactile linen or luxurious plush velvet.
Our Hartford Fossil Grey Upholstered King Size Sleigh Bed is a contemporary twist on a traditional sleigh bed design, with a statement curved headboard that would lend itself to a bedroom with a dramatic vibe. Hello bold wallpapers, moody paint colours and metallic accents!
Our Hartford Fossil Grey Upholstered King Size Sleigh Bed would command attention in a dramatic scheme.
Ottoman sleigh beds
For smaller spaces that are tight on storage, look no further than an ottoman sleigh bed.
With all the elegance and flair of a traditional upholstered sleigh bed, our Seville Ottoman Sleigh Bed easily lifts up to reveal a generous storage compartment that's perfect for housing spare bedding or clothes. The very essence of practicality and effortless style combined – it's a win-win!
For practicality and style combined, you can't beat our Seville Ottoman Sleigh Bed.
Are sleigh beds out of style?
Absolutely not! The classic sleigh bed has a timeless feel that works with an array of interior design styles – from eclectic vintage and countryside chic, to Scandinavian minimalism and dramatic, luxe colour palettes.
Ever wondered how to make a sleigh bed more modern? It's all in the styling. Take our shapely Amelia Oak Bed Frame, for example. We've given its classic shape an on-trend twist with panels upholstered in tactile linen. And, in the image below, we've taken inspiration from countryside cottages by styling it with a soft tartan throw, crisp white bed linen and a cosy faux sheepskin rug to give the space a laid-back feel that's both modern and inviting.
Our Amelia Oak Bed Frame has been given a country cottage feel with a tartan throw and a faux sheepskin rug.
Top sleigh bed styling tips
When dressing a bed as flamboyant as a sleigh design, it's important to consider the overall look of your bedroom so that the bed can truly shine. But there's no need to panic! Here we've come up with some easy and achievable styling tips that you can implement right away.
Dress with beautiful bedding
With a frame as beautiful as a sleigh bed, you need to choose bedding that commands a similar level of attention! If crisp white sheets are your style, why not tuck in your bedding to best show off your bed's statement scrolls? Or try layering up contrasting duvet covers, throws and scatter cushions for an on-trend eclectic feel.
Choose a complimentary colour palette to make your sleigh bed sing
Simple, cool-toned paint colours will allow for the shape of your sleigh bed to take centre stage, or you could go really regal with statement heritage wallpapers and jewel-toned accessories in shades such as sapphire, emerald and ruby.
Pair with matching furniture for a balanced aesthetic
For a look that feels cohesive and inviting, why not opt for bedroom furniture which matches the style of your sleigh bed? For example, our Amelia Oak Bedside Tables have a laid-back French aesthetic that would complement a sleigh bed's grand silhouette, or one of our Chateaux White Wardrobes would look incredibly elegant alongside a simple, painted bed design.
Want to see our full collection of stunning sleigh beds?
Feeling inspired to revamp your bedroom? From classic wooden designs to practical ottomans, take a look at our full collection of stylish sleigh beds.