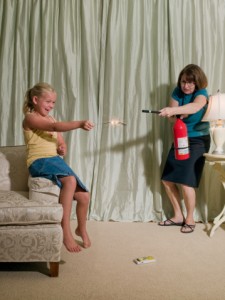 Getting young children to sleep on an evening is difficult at the best of times. Factor in an evening filled with the sound of explosions and the flash of bright lights, and the job can be even tougher. If you are not out enjoying the Bonfire Night festivities this evening, we have a couple of tips to ensure your child gets to sleep with the minimum disruption.
Ear protection
It may seem obvious, but protecting your child's ears from the constant banging of fireworks should work a treat. A simple knitted hat placed covering the ears may be sufficient. If the noise is particularly bad, consider beefing up the protection by placing cotton pads over your child's ears, then holding them in place securely with the hat.
Relocate the cot
If there is a large display underway at the side of the house where your child's cot usually resides, consider moving it to another, quieter part of the house for the evening. Try rocking them to sleep in your arms in a quiet part of the house, before setting them down in their newly located cot. This way, the change of environment shouldn't affect them too much.