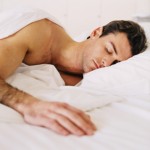 Essex-born Tom Boddingham got quite the shock when instead of the size 14.5 shoe he ordered online he received an oversized shoe big enough to sleep in.
The Daily Mail reported last week (October 20th), that the 27-year-old explained that he wanted a monster-design slipper for his oversized left foot and ordered what he thought was a size 14.5 slipper to do the job.
However, what Mr Boddingham didn't know was that the manufacturers of the slipper over in China failed to spot a decimal point in the size request; and so he received a whopping size 1,450 as a result. The seven foot long slipper was so big in fact that he could use it as his own
king size bed
.
The six foot seven inch customer, who received an apology from the manufacturer and was not charged any extra for his extraordinary slipper, said: "'It was sent directly from Hong Kong and measures 210 x 130 x 65cm – the same length as a grizzly bear or a family car.
"I must be the owner of the biggest slipper in the world."