Best Mattresses for Athletes and Sport Recovery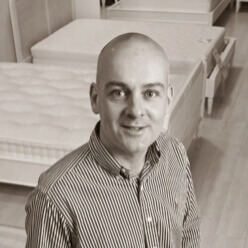 When sporting legends come to mind, you'd be forgiven for thinking about their career highlights and big wins over their sleep pattern and night-time routine. But whether you're an Olympic athlete going for gold or a well-intentioned amateur just looking to get a little fitter with a weekly jog around the park, a good amount of quality sleep is a vital component to athletic success. Sleep gives your body the chance to repair itself, improve cognitive function, better your reaction times, and boost your immune system to fend off illnesses which might interrupt your training programme.
So, runner bean, now you know that sleep should be playing a pivotal role in your training plan, here are our top tips when it comes to choosing the best mattresses for athletes and sport recovery.
What does an athlete need from a mattress?
The best mattresses for an athlete should provide deep restorative sleep and aid fast recovery to relieve the aches and pains of leg day and stop any preventable sleep disruptions that could jeopardise muscle repair and toning. You've heard of work hard, play hard, but the pros have been reluctant to give away their secrets to us laymen: you need to sleep hard too if you want to get that PB.
So, what exactly are you looking for? It's a simple but winning combination: a gym bunny's mattress needs to provide firm support and temperature regulation for the best night's sleep and improved performance.
Mattress Firmness
The best mattresses for sports recovery always deliver on support. When it comes to mattress firmness, everybody has a preference so think about your own personal comfort as a benchmark. You'll also need to think about your weight; if you're bench-pressing a lorry, the chances are you'll need a firmer mattress to stop yourself sinking into your bed and hurting your back. And if you're a long-distance whippersnapper, then a soft mattress will be the order of the day as you need less pushback from your mattress to support your frame.
Temperature Regulation
Temperature regulation should be next on your list. If you're too hot or too cold, the chances are you'll have a disrupted sleep and won't get the solid deep sleep associated with better performance. Investing in a mattress with temperature regulation technology will ensure your body maintains a natural temperature throughout the night, meaning you'll wake up feeling fully refreshed and ready to go.
Best mattresses for athletes and sport recovery
Without further ado, here are our top picks for the best mattresses for active people of all levels. Wanna see? Ready, set, go!
Hybrid mattresses
A hybrid mattress is a great choice for athletes who need a little more support as they combine traditional pocket spring technology with the latest memory foam to create a highly comfortable mattress with a firm comfort rating.
Sleep Sanctuary Ortho 2000 Gel Memory Mattress
The Sleep Sanctuary Ortho 2000 mattress contains Cool Blue pressure relieving gel memory foam which helps dissipate heat and improves blood circulation for a restful night's sleep. Combined with 2000 individual pocketed springs in a 150cm size mattress, this market-leading hybrid technology means the mattress adapts instantly and silently to your every sleepy movement.
Sleep Sanctuary Elite Gel Memory Pocket 3000
Some people find that traditional memory foam mattresses can provide a slightly warmer sleeping experience. However, the Sleep Sanctuary Elite 3000 uses temperature regulated technology to ensure your body is kept at its natural temperature throughout the night.
Orthopaedic pocket sprung mattresses
An orthopaedic pocket sprung mattress is specially designed to reduce stress on your back, neck and joints to alleviate aches and pains – pretty handy for athletes, huh?
Sleep Sanctuary Crystal 3000 Pocket Mattress
At the very core of the king size Crystal mattress there's a 3000-pocket sprung unit offering fabulous support due to its individually wrapped springs. As these springs aren't tied together, they're able to move independently of each other, moulding perfectly to the shape of your body – talk about bespoke support!
Want to explore our full range of mattresses? No problem! Check them out here.