5 most popular divan beds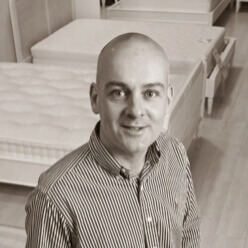 Are you thinking about buying a divan bed but not sure where to start the search? You've come to the right place. From storage options to customisable upholstery, you're sure to find your perfect match in our range of top-quality divan beds.
After all, there's a reason why divan beds are widely regarded as the UK's most popular bed type. Designed with a seamless mixture of practicality, style and ultimate comfort in mind, a divan bed is a fantastic investment. Here, we've done the research for you, highlighting 5 of our most popular divan beds. Life's too short for a bad night's sleep.
What's the best divan bed to buy?
A classic divan bed is both comfortable and stylish, often with the added benefit of efficient in-built storage for those who need to save room and maximise floorspace. Available in a wide range of materials, colours and styles, our range of divan beds are all handcrafted in the UK and are the epitome of cosy luxury. Here's our pick of 5 of the best.
The Wordsworth 2000
A Time4Sleep bestseller, the Wordsworth 2000 Divan Bed and Mattress really has it all. Featuring an eye-catching upholstered headboard with diamond studded detailing, this stunning bed is available in a wide range of colours and sizes to suit any bedroom aesthetic. Plus, with the option to add 2-drawer storage, you can save space at the same time as you make a design statement – result!
Affordable, without compromising on comfort, this divan bed is an incredibly wise investment as it comes with a high quality, hypoallergenic pocket sprung mattress. Say goodbye to nights of tossing and turning, and hello to a lifetime of well-supported, sound sleep.
Size options: Single, Double, King, Super King
Storage options: Non-storage, 2-Drawer
Colour options: Linoso Sand, Charcoal, Slate, Silver Glitz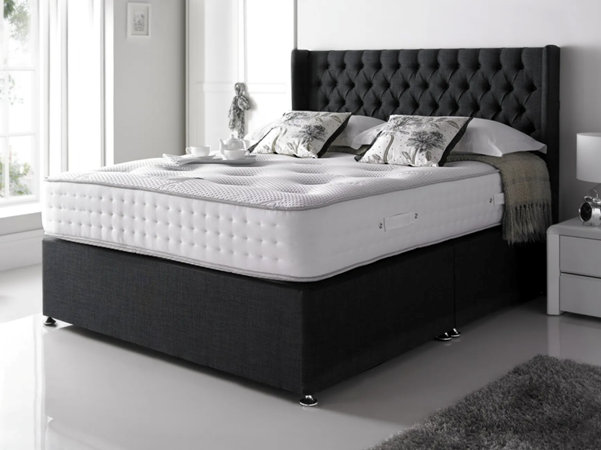 Our stunning Wordsworth 2000 in Charcoal.

The Knightsbridge
If you're looking for a divan bed to add a touch of glamour to your bedroom, look no further than the Knightsbridge Upholstered Divan Base and Headboard. Proudly handcrafted in the UK, these divan beds feature a luxurious, deep buttoned headboard with a slight curved wing detail for a touch of opulence.
Have room to play with? We have good news! The Knightsbridge is available as a double divan bed, king size divan bed or as a super king divan bed. Offered in 6 colours, from warm grey hues to natural stone tones, you can be sure that there's a Knightsbridge divan bed to suit your space and style.
Size options: Double, King, Super King
Colour options: Platinum, Harbour Dove, Harbour Grey, Harbour Silver, Finesse Chalk, Finesse Malt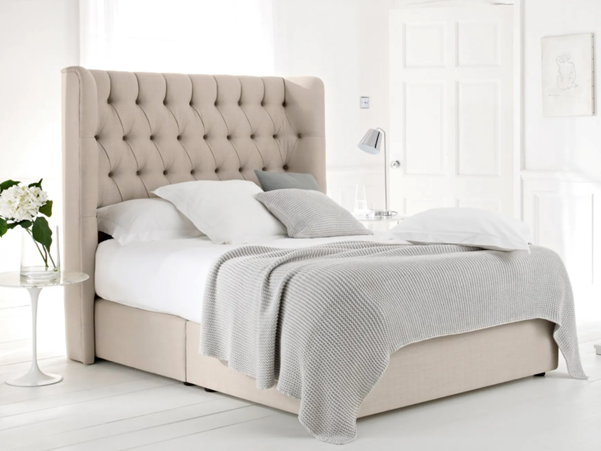 The beautiful Knightsbridge bed in Finesse Chalk.
The Buckingham
Meet the Buckingham Upholstered Divan Base and Headboard: the ultimate in understated and sophisticated design. With its clean lines, luxurious upholstery, and stunning chrome studs, our Buckingham divan bed is the perfect centrepiece for any modern and contemporary bedroom.
Handmade by master craftspeople in the UK, the Buckingham arrives complete with base and headboard for an incredibly supportive and comfortable sleep, night after night. If it's elegant simplicity you're after, this is the divan bed for you.
Size options: Double, King, Super King
Colour options: Platinum, Harbour Dove, Harbour Grey, Harbour Silver, Finesse Chalk, Finesse Malt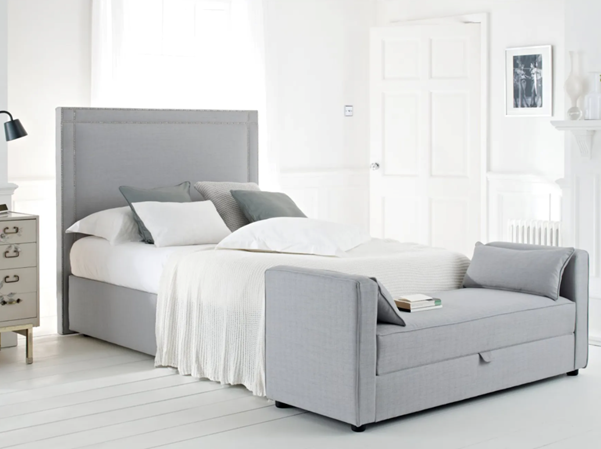 Sophisticated to the last detail, the Buckingham divan bed in Harbour Silver.
The Blenheim East
Fancy sleeping like royalty? Much like its namesake, this bed oozes regal magnificence. Handcrafted in the UK, the Blenheim East Ottoman Bed Base and Headboard is a sturdy, supportive, and beautifully upholstered divan bed with a huge storage area beneath its base. With a storage depth of approximately 25.5cm, no matter which size bed you choose, the Blenheim East is a great option for bedrooms where floorspace is at a premium.
The Blenheim also sports a stunning classically designed headboard with studded edge detailing and is available in 9 colours from cool greys to warm nudes and glamourous silvers.
Size options: Single, Double, King, Super King
Colour options: Velvet Slate, Velvet Silver, Velvet Steel, Shetland Camel, Shetland Nickel, Naples Silver, Turin Charcoal, Silver Glitz, Shetland Mercury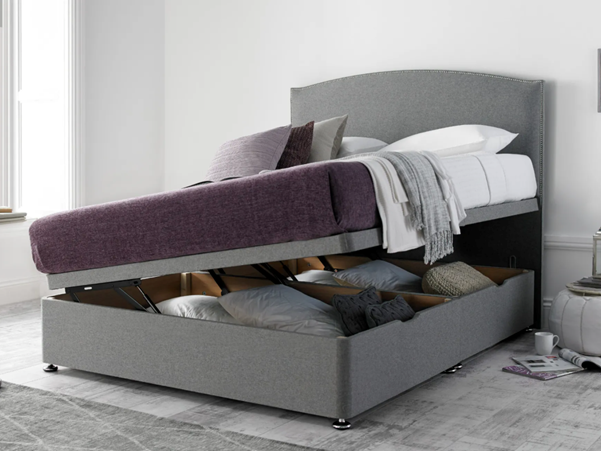 Why not opt for our stunning Blenheim East ottoman bed in Shetland Mercury.
The Hannah Classic
Dreaming of warmer shores? Our Hannah Classic 4-Drawer Divan in Arran Cyan is the answer, evoking the rich colour of the Aegean Sea. Float away on this contemporary bed into the land of sleep, safe in the knowledge that you have impeccable taste in interior design statement pieces! The Hannah features an incredible modern strutted headboard, with a deep padded and vertically lined design that really draws the eye.
Speaking of drawers, the Hannah has the added benefit of 4 equally sized, 18cm deep drawers providing ample storage for tidying away occasional use items and freeing up space.
Size options: Double
Storage options: 4-drawer
Colour options: Cyan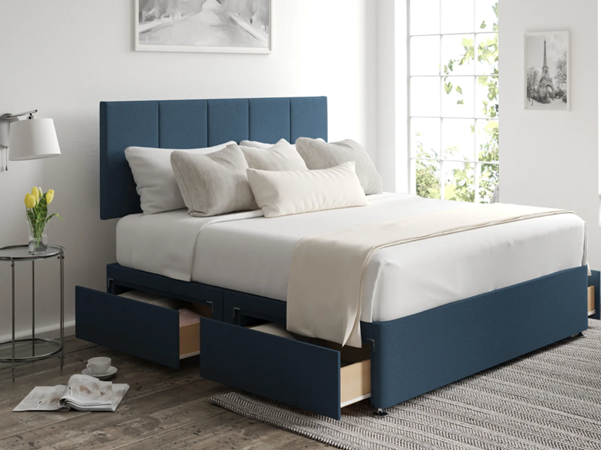 The gorgeous Hannah Classic in Arran Cyan.
Divan beds you'll love
Want to explore our full range of divan beds? You've got it. We've put together everything you need to know in our Divan Bed Buying Guide – from benefits to various types and designs, and our top tips on how to find the best divan bed for both yourself and your space!